Will Contest Lawyer in Corpus Christi
Can You Contest a Will in Texas?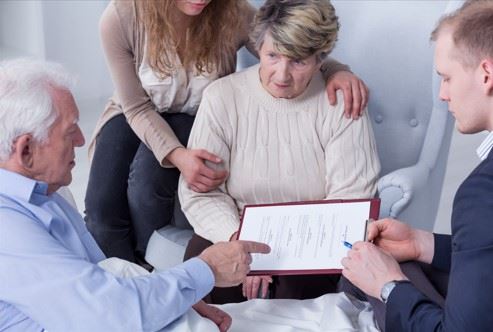 A will contest aims to invalidate a deceased person's will. This type of lawsuit is often a highly emotional procedure. A poorly written or nonexistent will may be a source of arguments among friends, family members, and other beneficiaries for months or even years after the decedent's passing. If you believe the executor is not performing their duties, beneficiaries were not properly named, or the will is otherwise invalid, you deserve the opportunity to fight for a fair resolution.
Not everyone can challenge a will, and even those who can are subject to certain time constraints and grounds. Furthermore, in order to successfully contest a will, you need to have standing. A person or entity has standing if the outcome of contesting a will is going to personally affect them.
You have standing if you are:
A beneficiary named in the will
A fiduciary named in the will (if you represent an entity such as a bank or charity)
An intestate heir (a person who is eligible to inherit from an estate when the decedent did not write a will)
Intestate heirs are decided through intestate succession, which is the list of kin organized by relative distance from the decedent. Intestate succession does not apply to unmarried partners, friends, or charities. Furthermore, intestate heirs are not entitled to certain assets, such as those passed through a life insurance policy or directly to an explicitly-named beneficiary. Understanding whether or not you have standing for challenging a will can help you decide if it's worth contesting in the first place.
---
Need the help of a will contest attorney in Corpus Christi? Contact us online or call (361) 866-5437 today so our probate attorney can begin building your case as soon as possible.
---
On This Page:
If a Child is Left Out of a Will Can They Contest It?
A common question many people ask is "Can you contest a will if you were left out of it?" The good news is that yes, in most cases if you can prove that you have standing to contest a will, you can still challenge the will even if you were not mentioned in it. In most cases this means that you will have to prove to the judge that you should have been named in the will, or that if the individual had died without a will, you would have inherited something of value.
How to Contest a Will in Texas
If you fit into one of the three categories listed above, you are able to challenge a will. However, certain evidence is needed to contest a will successfully.
You can contest a will in Texas on the following grounds:
Undue execution/lack of proper formalities: In order for a will to be properly executed in Texas, it must be signed by the testator, or the person who executed the will, or someone appointed to sign the will in the testator's presence and it must have two credible witnesses above age 14 attest to and sign it in the presence of the testator. If the will was not properly drafted, or if it is missing any of the above requirements, it can be contested.
Mistake: One of the reasons to contest a will isIf the will was executed by mistake. In this situation it can be invalidated. However, a will will not be invalidated if the testator is mistaken of law or fact.
Undue influence: Undue influence is when a testator is coerced or compelled to execute a will under pressure typically exerted by a friend, health care worker, relative, or a trusted advisor. To contest a will executed under undue influence, you will have to prove: the exertion of influence; the effectiveness of the influence to change or overpower the testator's mind at the time of execution; and the execution of a will that the testator would not have made without being influenced. Oftentimes, undue influence occurs when the testator is not of right mind or they have a diminished physical or mental capacity.
Fraud: Fraud is very similar to undue influence. When a testator falls victim to fraud which led them to execute a will that doesn't represent their true wishes, it can be contested. An example of fraud is a child telling a testator lies about a sibling, such as they were convicted of a crime or they said awful things about the testator, to get them removed from the will.
Revocation: You can contest a will if you can prove that it has been revoked and a new, subsequent, will exists. Additionally, a testator can revoke a will through a physical act. This act must be upon the whole will and the testator must have the mental capacity to revoke it at the time the physical act occurs.
Lack of capacity: Texas law requires a testator to have full mental capacity and competency when a will is executed. If you can prove lack of capacity when the will was executed, the will can be declared void. Typically, diagnoses of dementia, Alzheimer's, or some mental illnesses that lead a testator to act irrationally are enough to establish lack of capacity.
How Long Do You Have to Contest a Will?
According to the Texas Statute of Limitations, you have two years to contest a will, starting from the date the will is admitted to probate—not the date of the deceased person's death. States limit this time frame for contesting a will so the deceased person's estate can be distributed in a timely manner.
How Long Can Contesting a Will Take?
If your will contest lawyer is able to negotiate a favorable resolution with the executor of the will on your behalf, your case may be settled outside of court in a few weeks or months. However, if the executor is unwilling to settle, your case may go to court. Depending on the caseload of the court your case is being heard by, this could take a few months to even a few years.
Breach of Fiduciary Duty
In addition to changing or adding beneficiaries, by contesting the will you can seek to replace the executor by claiming they breached their fiduciary duty.
An executor's fiduciary duties include:
Organizing documents and taking inventory of assets
Managing the process of claiming benefits (i.e. Social Security, life insurance, etc.)
Managing and distributing assets
Distributing property that is not subject to probate
When fulfilling these responsibilities, the executor needs to be both organized and ethical. Their goal must be to fulfill the decedent's final wishes. If you believe the executor has breached these duties, you may be able to hold them accountable in court.
Contact Rothschild Law Firm for Immediate Legal Support
Both the court system and the will's beneficiaries may be in a hurry to finish probate and distribute assets. But if the will was not properly established, the decedent's final wishes might be misconstrued, and the court needs to take as much time as necessary to correct the situation.
Our Corpus Christi will contest lawyer at Rothschild Law Firm can help you understand every nuance of Texas laws regarding wills and probate. Because of our years of experience, we know what it takes to successfully contest a will. With close attention to detail, we will assess your case and devise a strategy to advocate for the outcome you need. Ultimately, a will is meant to fulfill the decedent's final wishes, and the court must make necessary changes in response to evidence demonstrating the will's invalidity.
---
If you need help disputing a will, our Corpus Christi will contest attorney is ready to help you seek justice. Schedule your consultation online or call (361) 866-5437 to get in touch with Rothschild Law Firm today.
---