Nueces County Divorce Lawyer
Protecting Your Interests During Divorce - Call
(361) 866-5437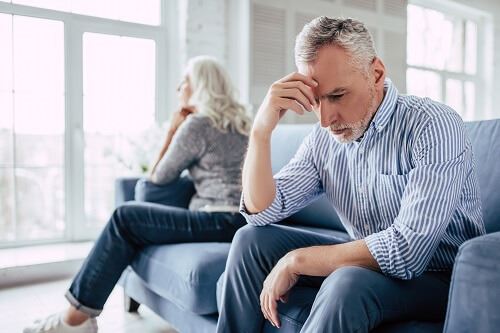 Going through a divorce can be a stressful experience whether it is rife with conflict or relatively amicable. In order to secure the most favorable outcome, it is important that you work with a firm well-versed in divorce representation.
At Rothschild Law Firm, our Corpus Christi lawyer is dedicated to protecting your rights and helping you navigate your complicated divorce proceedings. We know that choosing to end your marriage is not an easy decision and we want to help ease the stress involved in the process.
Attorney Nicholas Rothschild is a Fellow of the American Academy of Matrimonial Lawyers (AAML), an organization founded in 1962 "to provide leadership that promotes the highest degree of professionalism and excellence in the practice of family law."There are 1650+ fellows in 50 states across America. Fellows are recognized as skilled negotiators and litigators who lead the field of family law. They are known by judges and other attorneys to possess high levels of knowledge, skill, professionalism, and integrity.
Reach out to our Corpus Christi lawyer today at (361) 866-5437 to seek representation for your divorce.
Handling All Divorce Issues in Corpus Christi
We know that no two divorces are alike. Some may involve family businesses and complex property and others may involve children whose custody must be determined.
This is why we are focused on personalized representation. When you work with us, you can rely on our legal team to help you achieve your individual goals.
Our firm can handle all matters involved in divorce, including:
Parental relocation
Visitation
Enforcements
Texas Divorce Grounds
All states allow for no-fault divorces, which are divorces based on the fact that the marriage is "irretrievably broken" and can no longer be supported. Some states are exclusively "no-fault" divorce states, meaning they don't allow for the consideration of faults in a divorce. Texas offers divorce based on both "no-fault" and "fault" divorce grounds. The reasons are as follows:
Insupportability ("no-fault")
Separated for at least three years
Mentally instability that requires at least three years in a mental hospital and no hope for a cure
Cruelty
Abandonment for at least one year
A felony conviction that requires imprisonment for at least one year
Adultery that can be proved
Contact our firm for more information regarding these divorce grounds and to get advice regarding your specific situation.
Contested vs Uncontested Divorce in Texas
In the unfortunate event that you need to file for divorce, there will usually be a variety of decisions that must be made. One of these decisions is whether your divorce will be contested or uncontested.
In a nutshell, when both parties cannot agree on the terms of divorce it becomes contested. These terms can include issues such as custody, asset division, spousal support, etc. Since this type of divorce can be rather complex, a court hearing will be required.
If both parties can find a common ground and agree to the terms, then the divorce becomes uncontested. This type of divorce is recommended to those who want a smoother and quicker process, without a court hearing. It can also take half the time when compared to a contested divorce.
Texas Divorce FAQs
What are the residency requirements for divorce in Texas?
To file for divorce in Texas, at least one of the spouses must be a state resident for 6 months or more. Additionally, one of the spouses must be a resident for at least 90 days in the county where the couple is filing for divorce.
How long does divorce take to finalize in Texas?
The length of the divorce process is going to vary depending on the case. Whether or not the divorce is contested or uncontested will impact the time it takes to finalize the divorce. If it is a contested divorce, then the complexities of the disputable matters will also affect the divorce timeline. Technically, a divorce can be finalized in Texas 60 days after the petition is filed. Realistically, a divorce will often take 6 months to 1 year or longer.
Does Texas allow for annulments?
Yes, Texas does have a process for annulment when there is a legal deficiency in the marriage. Examples of these legal deficiencies include:
One of the spouses was underage
One of the spouses was under the influence
One of the spouses is impotent
One of the spouses is mentally incapacitated
Turn to Rothschild Law Firm for Skilled Divorce Representation
At Rothschild Law Firm, we are known for providing skilled, personalized, and compassionate representation. Having our firm on your side when filing for divorce under any circumstances can prove beneficial.
Our goal is to keep you educated and ensure you can make well-informed, level-headed decisions throughout the process. Reducing conflict whenever possible is our priority, especially where children are involved. Whether you have a straightforward case or a more complex case involving significant assets and major conflicts, we are prepared to help.